About Suffolk Window Cleaners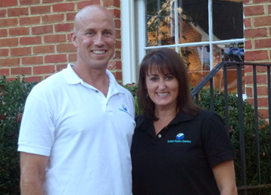 Robert and Maggie Kennedy started their window cleaning business in 1998 with a strong work ethic and a desire to provide a high level of professional cleaning and customer service. The company has since grown as the result of many satisfied customers and word-of-mouth referrals. Suffolk Window Cleaners provides professional window cleaning and restoration services for hundreds of homeowners and business owners throughout the Hampton Roads area.
As a woman-owned and veteran-owned company, Suffolk Window Cleaners is proud to service all cities in the Hampton Roads area of Virginia including Suffolk, Chesapeake, Virginia Beach, Portsmouth and Norfolk as well as the Peninsula and surrounding areas.
Are you ready for sparkling clean windows at your home or business? Call 757-469-3012 today for a free estimate or email Robert or Maggie now.